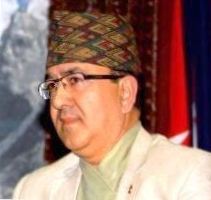 RAJENDRA KISHORE KSHATRI
ACADEMIC EDUCATION
LLM (Master of Laws), The University of Brussels, Belgium, 1992.
Post – Graduate Diploma in International Law, The Hague, the Netherlands, 1987 Institute of Social Studies (ISS) of Erasmus University, Rotterdam.
BA (Economics/Political Science) Tribhuvan University, Kathmandu, 1984
LLB (Diploma in Law) Nepal Law Campus, Tribhuvan University, Kathmandu, 1983
SUBJECTS OF PROFICIENCY
Water Resources, Energy, Environment, Trade, International Law, International Project Procurement, Insurance, Labour, Immigration, Claim Management, Alternative Dispute Settlement, Taxation and Legal Drafting together with other Corporate and Infrastructure Development Issues.
Seminars/ Conferences ATTENDED AS RESOURCE PERSON
Delivered a detailed presentation on the country profile on energy sector reforms and initiatives for the first time in the Board of Directors (South Asia), The World Bank, Washington D. C., as a Secretary to the Ministry of Energy, Government of Nepal after the return from the study tour at Itaipu Hydroelectric Project in Brazil, February, 2015
Participated as a High level Debate Panelist on the Challenge of Improved Global Freshwater Governance and the UN International Watercourses Convention, 2008 World Water Week. Stockholm, Sweden from17-23rd of August 2008
International Leadership Program on Water Resources Management for South Asia organized by US Department of State, Washington D.C May 19-06 June 2008
Private Participation in Power Sector Development and Related Aspects of Project Finance, New York, USA and Toronto, Canada May-June, 1997
ENTRY INTO GOVERNMENT SERVICE
Entry Date: November- 1983 as Section Officer (Gazetted III Class)
SOME OF THE NOTEWORTHY ACCOMPLISHMENTS
Some of accomplishments as a Secretary (15 May 2014- 18 Nov 2015) at the Ministry of Energy:
Conclusion of Power Trade Agreement (PTA) between Nepal and India to have access to regional power market.
Conclusion of SAARC Framework Agreement on Energy during the SAARC Summit at
Conclusion of the Terms of Reference and the Statute of Pancheswor Development Authority after 18 years of the Integrated Mahakali Treaty of 1996.
Framework Action Plan prepared for Energy Sector Reform, which ultimately gave guidance to prepare an Action Plan on National Energy Crisis Mitigation and Electricity Development  Decade, 2016.
IN-SERVICE EXPERIENCES AS SECRETARY
Secretary, Secretary, Ministry of Cooperatives and Poverty Alleviation (Mar, 2017 to July, 2017)
Secretary, the Commission for Investigation of Abuse of Authority (Sep, 2016 to Mar, 2017)
Secretary, the Office of the Vice-President, Nepal (Nov, 2015 to Sep, 2016)
Secretary, the Ministry of Energy (May, 2014 to Nov, 2015)
Secretary, Nepal Law Commission (July, 2012 to May, 2014)
AFFILIATIONS
Adjunct Professor (2008-2010) at Kathmandu School of Law, Dadhikot, Bhaktapur.
Guest Lecturer to Various Academic and Training Institutions like- Nepal Law Campus, Nepal Administrative Staff College, National Judicial Academy, Judicial Service Training Centre and Training Centre, Nepal Electricity Authority.
PAST EXPERIENCE AS AN INDEPENDENT EXERT
Legal and International Issues Expert – National Water Resources Strategy Formulation Study Programme, Phase I (pursued under GON and the World Bank Joint Project) August-December, 1996
Independent Expert/Consultant to Government Agencies
Factual investigation, research, analysis and reasoning, counseling and negotiation on claims with respect to entitlement and damage analysis including evaluation of construction claims and claim back-up, entitlement analysis and supportive research; evaluation and resolution of several contractual disputes, involving Canals, Tunnels, Dams, Power plants, etc. Delivering expert opinions in the areas of construction procedures, delays and disruption in conjunction with disputes relating to owners, architects, contractors, subcontractors, insurance companies and financial institutions; preparation of claims, defense of claims and counter claims relating to the contractual disputes.
MEMBERSHIP OF PROFESSIONAL SOCIETIES
A Panel Member of the SAARC Arbitration Council (SARCO), one of the Specialized Bodies of South Asian Association for Regional Co-operation (SAARC), at Islamabad, Pakistan. This body is mandated to provide a legal framework/forum within the region for fair and efficient settlement of commercial disputes, as referred to it by the member states and their people.
Member, International Water Law Association (AIDA) Montevideo 5, Rome, Italy
Life Member, Nepal Council of Arbitration, Kupondol, Lalitpur, Nepal
SOME OF THE SPECIAL TASKS ASSIGNED/PERFORMED
Co-ordinator appointed for the improvement of Model Project Development Agreement to work with Herbert Smith LLP, an English Law Firm and the Expatriate Experts, Aug- February 2011.
Co-ordinator of the Negotiating team for the conclusion of Project Development Agreement with Independent Power Producers of Mega Hydropower Projects for Nepal, August 2010.
Co-ordinator and Principal Draftsman for the preparation of draft agreement of Cross-border Transmission interconnection between Nepal and India, November 2009, which was ultimately concluded in October 2014 between Nepal and India.
Leader of the Nepalese Team for various bilateral talks on Water and Energy related issues appointed by the Government of Nepal, 2006-2015.
Principal Drafter of the proposed Electricity Bill, 2065 and the proposed Bill for the establishment of Nepal Electricity Regulatory Commission, 2065 Ministry of Water Resources, March– May 2005-007.
Major Contributor for the finalization of the proposed National Water Plan, Water and Energy Commission Secretariat, January 2003- May 2005.
Appointed as Chief Arbitrator/ Co-arbitratorChief Arbitrator and Co-arbitrator appointed in various commercial disputes under domestic arbitration and under the UNCITRAL Rules. The most recent one under arbitration proceeding is: IRCON international vs. Department of Road and Gorkha-CWC-MK JV vs. Department of Road, Government of Nepal. Both the cases of arbitration are under UNCITRAL Rules. The Awards were already delivered on 2014.
SOME OF THE PUBLICATIONS
A Working Paper entitled General Framework of Agreement for the Development of Transboundary Waters presented in a workshop seminar conducted and organized by BP Koirala Foundation and IIDS, Kathmandu, February 2001.
Principal Author of a Position Paper on the Rights, Duties and Obligations of Upper and Lower Riparian Countries for Sharing Water Resources, Water and Energy Commission Secretariat, June-July 1998.
Preparation of a Report entitled International and Legal Issue on Water Resources of Nepal (Pursued under the assignment of National Water Resources Strategy Formulation Study Program, Phase I HMG/World Bank Joint Project), December 1996.