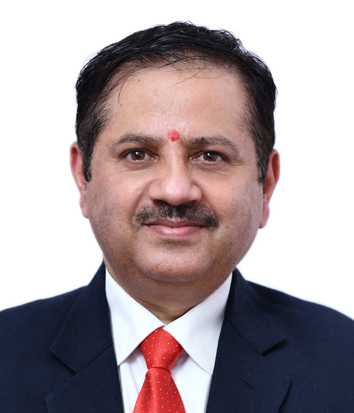 श्री खगराज बराल
सचिव
+९७७-०१-४२००२६६
Khaga Raj Baral
Curriculum Vitae (CV)
1.Personal facts
I, citizen of Nepal, permanently belong to ward number 22 of Pokhara Metropolitan City in Kaski district. I was born in Thulibidi-Pumdi Bhumdi tole of the same city on 10th of Bhadra 2026 (26th August, 1969). However, now, I regularly live in Madyapur Thimi Municipality-1, Lokanthali of Bhaktapur district. I am married with Sharada Devi Sapkota and we have given birth to a child named Anjan Baral in 2059 BS. I have maintained weight of 66 kilogram with height of 5.3 feet. I am purely vegetarian for the past 12 years and my blood matches with group A+ (positive). My unique interest is listening to music and my hobby is composing Lyrics, Stories, Poems.
2. Education
I have successfully completed 18 years of schooling with double Masters' Degree in Education and Humanities faculties during 1992-1995 under Nepal board of Examination. Similarly, I have earned the Bachelor Degree in Education faculty during 1989-1991 with First Division score. I did Intermediate Degree course during 1986-1988 and did 10 years of school education during 1976-1986. I find me of excellent efficiency in Nepali and good in English and Hindi languages.
3.Professional Experience
So far, I have earned more than 28 years of experience in different fields of government service that includes policy making, public administration, education planning, examination, staff development training, curriculum development, performance audit and teaching.
I currently hold a position of Secretary (Special Class) of the Government of Nepal for the past 3 years since 2073-04-27. During this period, I have headed bureaucracy of Regional Administration Office of Surkhet and Pokhara for 6 months, Secretary of National Information Commission for 3 months, Ministry of Women, Children and Social Welfare for 4 months, Office of Prime Minister and Council of Ministers for 7 months, Ministry of Education, Science and Technology for 17 months, Ministry of Health and Population for 6 months and the Office of the Vice President of Nepal for 7 month. I  Presently, I have been posted to the Office of the Prime Minister and Council of Ministers as the Secretary.
I have served the government in a position of Joint Secretary (Gazetted Class-I Officer) since 2065-12-06 for 8 years. With this capacity, I have headed several departments of the government such as Department of Education, National Centre for Educational Development, Education Review Office, Office of the Controller of Examination, Curriculum Development Centre and Regional Education Directorate of Central Region. Similarly, I worked Ministry of Education being in charge of different divisions.
Similarly, I have good deal of experience, almost 15 years, in professional field including school supervision and teacher training. I started my career in the government service since 2051-05-08. Over this period, I was posted to different District Education Offices and Education Training Centers where I was solely responsible for supervising schools, providing professional support to the teachers and conducting varieties of training on the different school subjects and pedagogical domain. Organizing professional seminars, meeting and instructional workshops was another core part of my terms of reference.
Apart from this, I was popular in teaching English subject at the university and school level for more than 4 years since 2048.
I have gathered wide range of practical knowledge and experience about national geography and sociology by vising 68 districts (only 9 left) of Nepal. The district visited so far are Taplejung, Panchthar, Ilam, Jhapa, Sankhuwasabha, Morang, Sunsari, Tehrathum, Dhankuta, Saptari, Siraha, Udayapur, Dhanusa, Mahottari, Sindhuli, Dolakha, Bara, Parsa, Makawanpur, Chitwan, Mahottari, Sarlahi, Kathmandu, Bhaktapur, Lalitpur, Dhading, Rasuwa, Nuwakot, Sindhupalchok, Kabrepalanchok, Gorkha, Lamjung, Tanahun, Kaski, Syangja, Parbat, Baglung, Mustang, Myagdi, Palpa, Arghakhanchi, Gulmi, Rupandehi, Nawalparasi, Kapilvastu, Dang, Rolpa, Pyuthan, Rukum, Salyan,  Banke, Bardiya, Dailekh, Surkhet, Jajarkot, Jumla, Kailali, Doti, Bajhang, Dadeldura, Darchula, Baitadi, Kanchapur, Ramechhap, Bhojpur, Khotang, Solukhumbu and Okhaldunga.
4.International Studies and Training 
I consider myself fortunate enough to collect international knowledge and experience from more than 22 countries around the world. So far, I have spent total of net 188 days in oversees for different occasions of study such as meeting, study tour, training, conference, seminar and workshop.
Precisely speaking, I attended Nairobi Summit on ICPD25 for 3 days in the capital city of Kanya from 12th to 14th November 2019 in Nairobi, Kenya jointly orgnaized by UNFPA and Government of Kenya. I attended Conference on Combatting Urban Air Pollution Impacts on Maternal and Child Health in Asia for 2 days in the capital city of Mongolia from 29th to 30th October 2019 in Ulaanbaatar, Mangolia jointly orgnaized by UNICEF Mongolia, Ministry of Health, Ministry of Environment and Tourism, Ministry of Labor and Social Protection of Mongolian Government, Ulaanbaatar City Governor's Office and Asian Development Bank. I attended Shanghai Cooperation Organization Workers' Skills Exchange Camp for 7 days in the capital city of China almost one year ago in May 2018. In the same place, I participated in a 7-day seminar on Capability Building of Governance back in 2016. Similarly, I took part in a 3-day World Conference on Multi-Grade Multi-Level Teaching in Chennai city of India in 2016. I visited United Kingdom (UK) in 2015 for a 5-day Study Tour on the subject of Quality Assurance, organizer of the program was British Council.
Furthermore, I was exposed to a study visit on strengthening education system to the Tokyo of Japan for 5 days in 2014. In the same country Japan, I did a one-month training course on Education for Peace through Promoting Mutual Understanding in 2012. I participated in SAARC Summit 2012 for 2 days in Sri Lanka. I was one of the participants in a one-month training course on Education Management organized during 2005 in Copenhagen city of Denmark in 2005. I did another course on Technical Education for 4 days in Helsinki city of Finland in the year of 2010. I attended Board of Directors (GPE) Meeting for 2 days in Sweden (Stokholm) in the year of 2018.
Likewise, I participated in a 3-day Asia-Pacific Regional Meeting organized by UNESCO during 19-21 September 2018 in South Korea. I was part of a 5-day Global Conference during 14-18 March 2016 in Germany. I was participant in another 2-day Regional Meeting on Competency-Based Teacher Training Reforms to Facilitate ICT, which was organized by UNESCO in in Bangkok city of Thailand during the year of 2015.
I did an 8-day Study Course on Technical and Vocational Education and Training organized in South Korea by TEVT SOFT Skills Project (TSSP) in 2015. I visited Malaysia for a 7-day study-trip organized by UNESCO on the subject of Effective Delivery of Education in Federal State in 2015. I was invited to participate in a 2-day Workshop on School and Hospital Earth Quake Safety organized in New Delhi of  India during 2011. I visited Switzerland for a 7-day 10th Conference on Universal Periodic Review (UPR) in 2011. I paid visitation to Cairo city of Egypt to a 7-day Study course on School Education System in 2010. I represented government of Nepal in a 3-day Workshop on Regional Capacity Development with Ministries of Education organized in Bangkok city of Thailand by UNESCO in 2009.
5.Publications
I have published the following 16 books and more than 100 professional articles specially in the area of education and public management under my sole authorship.
'Ma Ta Sadhai Eklai Parey' 2062– A lyrical collection by Shramik Baral, Published by Anjan Baral
'Abiral Ganga' 2067 – A lyrical collection by Shramik Baral, Bhoodipuran Prakashan
'Mauna Akash'– 2071– A lyrical collection by Shramik Baral, Eairawati Prakashan
'Shramik Baral ka Geetharu', 2073- A collection of Shramik Baral by Sajha Prakashan
'Shaikshik Vikas ka Baikalpik Chintan' (Co-editor), 2066 -A collection of Educational Management Articles, Sopan Prakashan
'Shiksha Byabasthap ka Nabin Ayam', 2067 – A collection of Educational Management Articles, Sopan Prakashan
'Shaikshik Bimarsha', 2068 – A collection of Educational Management Articles, Sopan Prakashan
'Kehi Shaikshaik Muddaharu', 2069- A collection of Educational Management Articles, Sopan Prakashan
'Shaikshik Bicharan', 2070 – A collection of Educational Management Articles, Sami Sam Prakashan
'Kehi Shaikshik Prabandha', 2071 – A collection of Educational Management Articles, Sami Sam Prakashan
'Shaikshik Dristrartha', 2073- A Collection of Educational Management Articles, Sami Sam Prakashan
'Shiksha ra Sikai, Prasang Bidesh ko Sandarbha Nepal ko' 2074, A Collection of Educational Articles, Sopan Prakashan
'Lilawati Smriti Grantha', 2075 – A Memorable Book, Editor, Lilawati Smriti Grantha Prakashan Samiti, Pokhara
'Shikaune Shaile', 2075, A Collection of Feeling, Sangrila Book Publication
'Sani ko Birth Day', 2075, A Child Story, Bhoodipuran Prakashan Griha
'Shiksha ko Darshan, Niti and Byabahar', 2075, A Collection of Educational Management Article, Sopan Prakashan
'Aangani ko Phool', 2076, A Collection of Child Song. Sangrila Book Publication
'Sikai ra Sahayog', 2076, A Collection of Feeling, Sangrila Book Publication
6. Contact Details
Phone             +977-1-6630241(R), +977-9851136231
Email              khagarajbaral@gmail.com